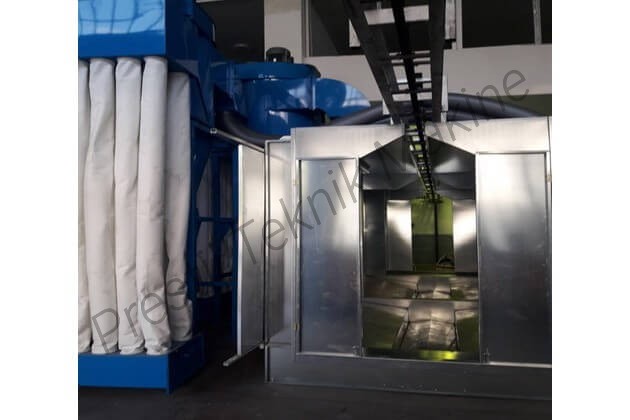 Booths with cyclone are composed of two separate units. The powder paint particles absorbed with air, swirl into the cyclone body by a 180 degree centrifugal spin. The second phase swirling dust particles formed in the middle region are lowered to the cyclone bucket through the cyclone cone. The small fractures resulting from the collision of the fast moving particles with each other are directed with air towards the suction tube in the middle and then through the filter group to the defect bucket. Accumulated powder paint in the bucket during operation, is collected at certain intervals, screened and sent back to the spray gun.
Booths with cyclone are used by businesses in the powder coating sector, which do not use much color change processing. Booths with cyclone break down powder particles because of the centrifugal effect. For this reason, the paint cakes that accumulate in the cyclone tank should be mixed with fresh paint.
According to the preference the booth can be manufactured from galvanized sheet or stainless steel material.
All parts of the booth are demountable and all of the connections are bolted.
The interior and exterior surfaces of the booths are coated with electrostatic powder paint.
It is possible to add automatic blasting cartridge as an option.
Felt filters are determined according to the cyclone flow rate.
Felt filters have a dust holding capacity of 15 microns.
The suction fan used in the powder coating booths is of radial type.
The powder coating booth has a sliding cap.
Powder coating booth lighting power is 500 lux.
The fans are suitable for Manual and Automatic operation.
In addition to the standard booths, special booths can also be manufactured.