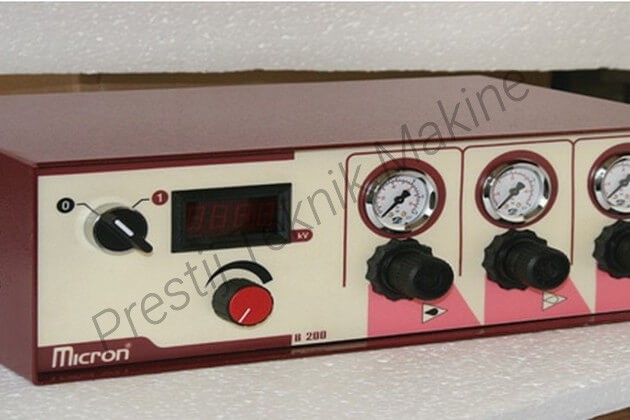 The manual Corona powder coating gun sold by our company applies high voltage to the needle inside the device and degrades the natural structure of the air molecules. Thanks to the negative ions generated in the air, the powder particles are charged and the particles are held on the application work piece surface much better. Manual Corona powder coating guns can be used with all types of thermoset paint types, and thanks to the spare parts sales support provided by our company, this unit has always been manufactured for trouble free operation.
Since the manual Corona powder coating gun contains a lot of dust at the powder paint outlet, it provides a great convenience during application to the work piece. The Corona powder coating gun performs the painting process with the help of the needle on its end only, so there is no need to install any additional apparatus to make the spraying process easier. Our company also manufactures spare parts for all Corona powder coating gun systems that it manufactures. Thus, in case of any malfunction, the problem can be solved very easily with spare parts manufactured by our company which has a reliable experience.
Manual powder coating gun consists of completely detachable parts.
The ergonomic grip design and lightweight construction make it easy to use.
The high voltage cascade is of the cartridge type and can be easily replaced in case of a malfunction.
The well-designed head group charges the paint in best possible way and ensures that the paint adheres homogeneously to the work piece.
Thanks to the improved trigger system, the risk of failure is reduced to a minimum level.
The screen system between the cascade and the paint passage provides sealing and prevents the cascade from touching the paint, minimizing the risk of malfunction.
This group contains the necessary electrical and pneumatic equipment for the operation of the system.
The custom panel design does not confuse the user.
It has feautures easy to use.
The gun voltage, turbulence air flow and injector air flow are adjusted on the device.
The device is mounted on a robust and aesthetic console.
The air inlet regulators and the tank boiling regulator are located on the console.